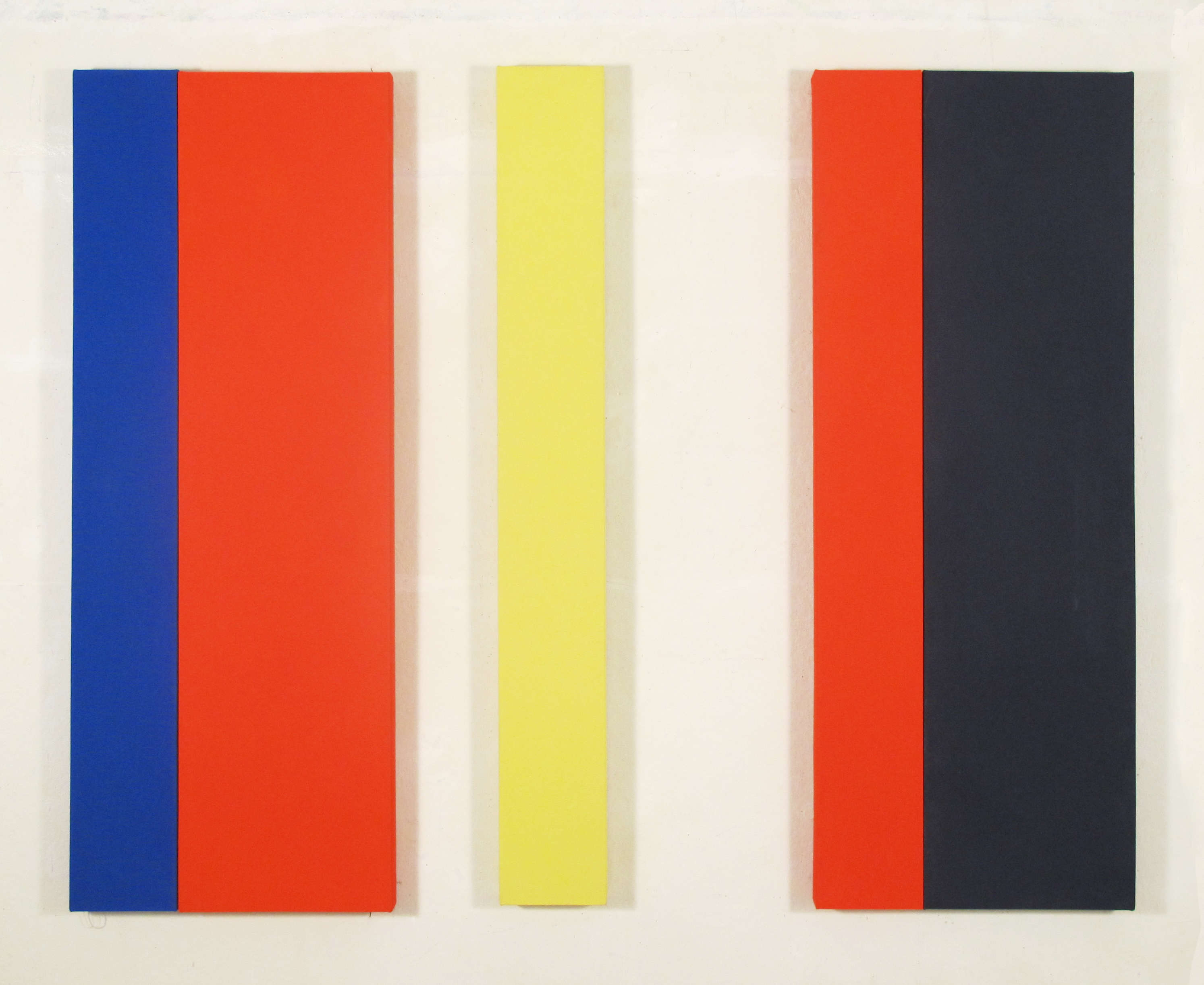 The Hard Line
THE HARD LINE

Seymour Boardman, Ilya Bolotowsky, Nassos Daphnis, Kendall Shaw
September 11 – November 15, 2014
The Anita Shapolsky Gallery is presenting an exhibit of four artists renowned for their contributions to hard-edged works in which color is primary.
The approach of Seymour Boardman (1921-2005) to visual structure evolved from his earlier works which evidenced a concern with expressive painted surfaces. After losing the use of his left hand during World War II, Boardman resumed his art studies in France from 1946-1949. "Visual structure" played a major role in his approach. Boardman moved from the use of gestural paint strokes to formally composed canvases that are specific in the use of color, shape placement, and line. In his acrylic 1961 Untitled (72" x 38"), Boardman places his shapes at the bottom of the rectangular canvas, interacting with both the space above and the actual bottom edge of the painting. He engages the spectrum of black by using two variations-each marked by different intensities and richness. Over a decade later, in the 1978 acrylic Untitled (26" x 34") he uses only lines to explore the vastness of his white color field. Boardman's work is included in the collections of the Brooklyn Museum, Newark Museum, Rose Art Museum, Guggenheim Museum, Whitney Museum and other more.
A founding member of the American Abstract Artists (1936), a group that rejected the popular realist imagery of the day, Ilya Bolotowsky (1907-1981) was one of the few artists to create an abstract mural for the WPA.  His biomorphic forms gave way to the grids, shaped canvases, and the use of primary colors interacting with white space – which operate as bands or lines. Bolotowsky was influenced by his countryman Kazimir Malevich, and when he first saw the paintings of Piet Mondrian in 1933, he was strongly impacted by the ideology of Neo-Plasticism. In the 1958 Naples Yellow and Grey (26" x 34 ½"), Bolotowsky delivers a nuanced work, without the use of primary colors. Instead, he punctuates gradations of white, greys, and the warmth of Naples Yellow with slender rectangles of aqua blue, dusty rose, and bluish purple – all of equal intensities. Bolotowksy's work is included in the collections of the Art Institute of Chicago, San Francisco Museum of Art, Philadelphia Museum of Art, Hirshhorn Museum, the Guggenheim Museum – (where he had a retrospective in 1974) and other public institutions.
The creative journey of Nassos Daphnis (1914- 2010) took him from early paintings recalling his youth in Greece, to the City Walls Project in the Manhattan of the 1970's. His abstract, geometric images adorned building walls from the West Side Highway to Madison Avenue and 26th Street. Daphnis first showed at the Leo Castelli Gallery in 1959. His ouvre included the exploration of geometric planes of color, often arranged in patterns. He then morphed to a wide-ranging examination of circles, discs, rings, and spheres. The latter he explored in three-dimensional epoxy on novaply (a form of particle board). In PX-9-69 (30" x 30") from 1969, Daphnis uses enamel on a circular plexiglass field to explore the push and pull of movement via both color and shape. The black and red motif uses missile-like forms to converge on a central black diamond. Simultaneously, bands of blue, yellow, and white both push towards the center while alluding to the space beyond the perimeters of the canvas. Daphnis is included in the collections of the Aldrich Museum, Museum of Modern Art, and Chrysler Museum and many others.
Emanating from an extensive background in science, specifically physics, Kendall Shaw (b.1924) has consistently been concerned with the metaphysics of art. Throughout his career, color and space have been primary. In his Cajun Minimalist series, Shaw uses panels of acrylic on canvas—placed to interact with the white wall space—to illustrate his philosophy of color as energy. In his 2012 Alligator Kum, Shaw employs four panels of color, two narrow and two wide. The narrow red and orange bands are separated by a span of white wall, equal in measure to them. The result is a shifting and ongoing dialogue. Shaw's work is in the collection of the Brooklyn Museum of Art, the Museum of Contemporary Art in Japan, and the New Orleans Museum of Art.
All four artists reduced complicated image to its essence through a simple play with basic color planes.
For additional information and jpegs, please contact the gallery at: anitashapolsky@gmail.com