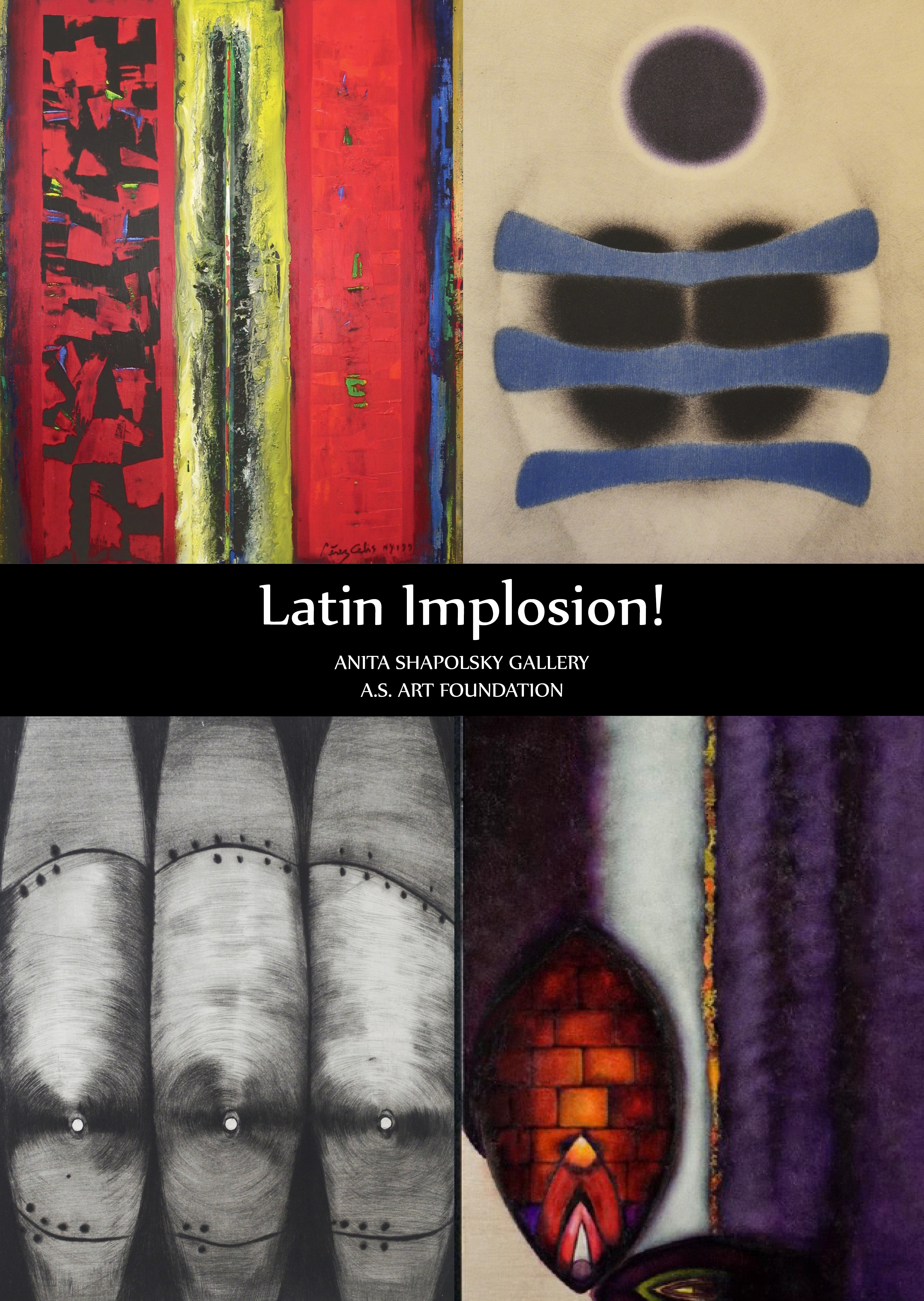 Latin Implosion!
March 4 – May 5, 2017
Opening Reception: Tuesday, March 7, 6-8pm
Rodolfo Abularach, Mario Bencomo, Pérez Celis, Agustin Fernandez
The Anita Shapolsky Gallery is pleased to present "Latin Implosion!" a selection of works by four 20th century masters of Latin American art, including Rodolfo Abularach, Mario Bencomo, Pérez Celis, and Agustin Fernandez. Each of these four artists seeks to explore the sensory overload within each human interaction or experience. Histories of exile, repatriation and diaspora transform the works into vehicles for re-imagining the most intimate aspects of these contested psychic spaces. Each artist depicts their narrative through the gaze of personal mythology and visual language, with the physical and spiritual worlds dancing together within each frame. With "Latin Implosion!", the gallery is thrilled to continue its legacy as a pioneering space for the exposure and appreciation of the lucid dreamers of Latin America.
Born in Guatemala in 1933 and of Palestinian descent, Rodolfo Abularach is perhaps best known for his close-up depictions of the human eye, yet his slow and mesmerizing abstractions evoke loneliness and introspection. Deviating from universally recognizable figurative works to visceral cellular formations, his pieces maintain a haunting voyeuristic quality, through which the viewer is the object of desire. He studied at the Escuela National de Artes Plásticas in Guatemala City in 1946, and received a grant from the Dirección de Bellas Artes of Guatemala to travel to New York City in 1958, where he began his internationally acclaimed investigations of the eye. Abularach's works can be found in the collections of the Museum of Modern Art, the Metropolitan Museum of Art, New York, the Museum of Contemporary Art, Sao Paulo, Brazil, and the Royal Museum of Fine Arts, Copenhagen, Denmark, among many others. He is a recipient of the Guggenheim Fellowship for Creative Arts, Latin America and the Caribbean.
Cuban-born Mario Bencomo (b. 1953) blurs the lines between the intuitive and sensual aspects of perception, with references to the animism of the natural world. His playful, colorful realms depict abstractions of feathers, leaves, wings, and their figurative relationships to each other. An avid reader, Bencomo often references poetry in his visual works, as each plane tells an elegant story of symbiosis, pollination, and regeneration. While his paintings utilize a whole spectrum of saturated colors, his works on paper evoke primal energies in simple black and white with deliberately placed color. Mario Bencomo is in many collections, including the Metropolitan Museum of Art, The National Museum of Fine Arts of Havana, Cuba, the Art Museum of the Americas, Washington, D.C., The Norton Museum of Art, West Palm Beach, Florida, and the Muséo de Arte Contemporáneo, Panamá, Panama, among others. He currently resides in Miami, Florida.
A native of Argentina, Pérez Celis (1939-2008) was a colorist who blended raw emotion with piercing planes in a Neo-Expressionist style. His intensity in stroke and layering give his works a striking impact, through which he gained international acclaim. Often referencing his indigenous roots, his paintings, sculptures and murals weave thick tapestries of color with expert compositional fragmentations. Celis' style evolved during his experiences in the many places he lived, where form and texture-focused works evolved into controlled lines and vibrant colors. Pérez Celis is part of numerous major private collections and museums including the Museum of Modern Art in New York, the Museum of Modern Latin American Art, Nicaragua and Washington, D.C., the Art Museum of Philadelphia, the Museum of Syracuse University, and the National Arts Fund, Buenos Aires, Argentina. In addition, he illustrated Jorge Luis Borges' translation of the epic Walt Whitman poem, "Leaves of Grass / Ojas de Hierba", and painted numerous murals on La Bombonera, the home stadium of one of Argentina's most popular futbol teams, the Boca Juniors. Celis received the Alba Award at the 61st Salón Nacional de Artes Plásticas Argentino in 1972.
Agustin Fernandez (1928-2006) of Cuba settled in New York City in the 1970's and is often considered a Surrealist for his depictions of fleshy visions and fantastical metallic inventions. His works are directly inspired by the machine, as mechanical joints, fixtures, buttons, and textures permeate his delicately rendered works. The erotic is never understated for Fernandez, as the cold metal hand of industrialization plays tenderly with the flesh in a muted, earthy palette. Fernandez sites exile as being influential in his development as an artist and exploration of more metaphysical realms. Fernandez is currently experiencing a resurgence in popularity, and was recently included in new art fair Paris Internationale in 2016. His work has also been included in numerous collections and group shows at institutions such as New York's Museum of Modern Art and London's Victoria & Albert Museum, as well as The Art Institute of Chicago, The Bronx Museum of Art in New York, the Yale University Art Gallery, New Haven, El Museo Nacional de Bellas Artes, Havana, and many more. In 2006, his family established the Agustin Fernandez Foundation, and published "The Metamorphosis of Experience", a comprehensive survey of his work, in 2012.