ERNEST BRIGGS & FRIENDS
September 24th – November 28th
Opening Reception: Tuesday, September 29th 6-8PM
Opening September 24, 2015 at the Anita Shapolsky Gallery, Ernest Briggs and Friends joins the work of Ernest Briggs, Anne Arnold, Sonia Gechtoff, and Jon Schueler, cluing viewers into the shared aesthetic and close relationships that these artists enjoyed during the rise of Abstract  Expressionism.
Writing for Art in America (Nov/Dec 1975), Peter Selz revisits Clyfford Still's work after thirty years, describing West Coast abstract painters as being "wilder, less refined, less organized, less intellectual, less concerned with  Surreal metaphor…more sensual, more organic, more directed towards nature, which was in close proximity." Briggs and Schueler studied in the late 40's through the early 50's with Still at the California School of Fine Arts, now known as the San Francisco Art Institute, during the period that Ad Reinhart, Mark Rothko, Richard Diebenkorn, David Park and Hassel Smith were invited by Douglas MacAgy to teach there. Inspired by Still, who admired Arshille Gorky, Briggs and Schueler painted edge-to-edge, slathering paint on the canvas with a palette knife, brushes, rags and their fingers. West Coast culture freely mixed Beat Poetry, Jazz, Bebop, and Zen Buddhism at events and readings. Briggs and Schueler both showed at MetArt, an alternative gallery that closed with a show of Clyord Still's paintings. When Schueler moved to New York in 1951, Still introduced him to Barnett Newman, Franz Kline, Phillip Guston, and Joan Mitchell (to name a few), and he showed at the Stable Gallery in 1954, at the Castelli Gallery in 1957 and 1959. Briggs arrived in New York in 1953, scoring one-man shows at the Stable Gallery in 1954 and 1955. He was included in Twelve Americans at MoMA in 1956.
Sonia Gechto studied at the Philadelphia Museum School of Art, now the University of the Arts, moving to San Francisco in 1951. Her mother Ethel Gechto owned the East West Gallery (1956-58). Like Briggs and Schueler, Sonia gravitated towards abstraction — although she was initially a figurative or social realist painter. She absorbed the influence of Clyfford Still through her close friendship with Briggs, making atmospheric paintings of masses of lines; and later, colorful, flame-like compositions. She was the first woman to show at the Ferus Gallery in Los Angeles, and she exhibited at the Brussels World Fair in 1958. She returned to New York in 1958 with her husband, painter James Kelly, who also studied art at the CSFA on the GI Bill.
The exact opposite of the Abstract Expressionists, Anne Arnold made playful, realistic sculptures of animals and people in wood, ceramic, canvas and other organic materials. She studied sculpture at the Art Students League from 1949-1953. She married Ernest Briggs in 1960 and they moved to Montville, Maine in 1961. After he died in 1984, she focused on drawing and watercolor painting she was befriended by the photographer Robert Brooks until she died in 2014. Anne taught at Geneseo and Brooklyn Colleges and at Columbia University and the University of Pennsylvania. Her work was shown at Fischbach, and is currently represented by the Alexandre Gallery. Ernest Briggs and Friends creates a snapshot of a painter with close personal ties to the abstract artists Jon Schueler and Sonia Gechtoff, and to the witty, realistic sculptor Anne  Arnold. His reputation for prizing change and unpredictability makes sense considering the diverse company he kept and the fact that he entered Abstract Expressionism by way of the quirkier, West Coast door.
It is with great pleasure that we unite these friends once again. Sonia Getchoff is the lone survivor of the group.
She is 89 years young, Bravo!!
Anita Shapolsky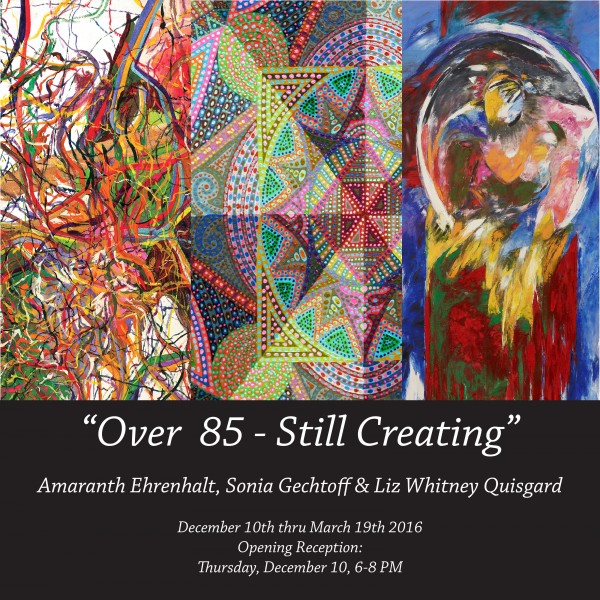 Immediate Press Release:
Amaranth Ehrenhalt, Sonia Gechtoff and Liz Whitney Quisgard emerged during the Abstract Expressionist era of the 50s and 60s, and it's no exaggeration to say that they were eclipsed by their male counterparts. These three have not only outlived many of their peers, but they have blossomed during the decades under the radar. Over 85 –Still Creating marks a turning point, as attention is now being paid to the less well-known, but certainly not less important Abstract Expressionists who often happen to be female. This is a showcase of three irrepressible women painters now.
Synthesizing emotional impressions into the physical, Amaranth Ehrenhalt creates sculptures, paintings, fabric designs, watercolors, prints, tapestries and photographs; beginning with color or responding to "an idea has been bothering me," often working in series to fully capture what needs to be said.
Sonia Gechtoff wants to "get into the work without overloading it," and her skill lies in painting ambiguous imagery without being repetitive. Rooted in drawing, her paintings pivot on careful attention to edge and line.
Liz Whitney Quisgard covers surfaces and sculptures with a modified, wildly inventive pointillism that draws from Oriental carpets and Islamic designs. She remembers being relieved to have a dealer and flattered rather than insulted in the early 60s when André Emmerich told her, "Liz, if you had been a man I would have taken you on two years ago."
In the vanguard of showcasing female Abstract Expressionists, Over 85–Still Creating dovetails with the upcoming Women of Abstract Expressionism, opening June 12 at the Denver Art Museum. Gwen Chanzit, curator, states it best; "I hope to see the time when the canon will have expanded beyond the handful of artists (predominately male) who have previously defined Abstract Expressionism. Then we can show works by male and female painters of this movement side by side and appreciate the distinct qualities of all these individuals."